If there's one thing–no, three things–I hate about discussing poetry, they are: sweeping generalities, declarative sentences, and conviction that leaves nothing open for discussion. Poetry is a living, breathing thing (except when it's not) and defies facile categorizations (except when it doesn't) and will turn on you in a heartbeat (except when it sits there staring you in the face). See what I mean?
So about the only categorizations of poetry I'm comfortable with are linguistic and cultural in nature, i.e., is it French or English? is it a sonnet or free verse? is it regional or personal? Do I like it or not? You get the drift.
That said, I'm happy to plug a book that's regional in nature, but the similarities stop right about there. New Poets of the American West, edited by Lowell Jaeger, is an exhilarating collection from poets united by geography and, fair to say, a certain reverence for the landscape they walk/drive/ride/boat/ramble across every day.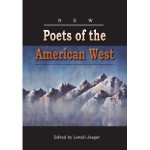 Together they create a detailed topography of the American West.
If the wide open spaces of the West had a gospel choir, this anthology would be the microphone. Published by Many Voices Press, it boasts a whopping 256 poets in its 550 pages. Each poem steps forward like a soloist. As you're listening to one, you can hear the unified hum of the background singers.
In this collection you'll hear personal voices, public voices, Native voices, Hispanic voices, university voices, ranch voices, city voices, forest voices, river voices, night voices, dawn voices. You'll sit and have coffee, a few beers, and even dinner on a fishing boat. It's truly a joy to sit and let the voices wash over you as you turn the pages.
At the venerated Tattered Cover bookstore in Denver on October 15, 2010, I was lucky enough to attend a reading from the pages of this book, MC'd by my friend and fellow poet in arms, Joe Hutchison. All the readers were Colorado poets, but they ran the gamut in style and delivery. Art Goodtimes shook us to our boots with his loud, boisterous performance. Art looks like a jolly mountain man with a hell of a big bag of stories to share. Even in casual conversation he practically SHOUTS, reminding us (thank you!) that poetry is not to be cloistered in libraries and bookstores. It's rhythmic and free and decidedly bent on delivering its message in powerful ways, from a captivating sotto voce to a rousing fortissimo.
Poetic power resides not only in volume but in arresting visuals and poignant pauses, as Kathy Conde and Marilyn Krysl reminded us as they read, delving into painful truths and hard-won epiphanies. And poetic power has its decidedly feminine swagger, as both women also deftly demonstrated in their delivery. A steady power I discovered that night was in the drawl-tinted voice of Rawdon Tomlinson, who explored family bonds in poems that sailed above the land and dug down into its sand. Another was Peter Anderson, from Crestone, CO, whose seamless night-driving narrative took us far from the bookstore to the middle of Nowhere.
New Poets of the American West is a tremendous work that commemorates our present in the West, even as we contemplate its past and fret over its future. But don't take my word for it…get a copy for yourself and discovery the West in all its splendor, contradictions, struggles, triumphs, and beauty.