Writers are creatures of habit. We have our favorite pen, brand of notebook, magic potion for sipping as we write. We like our ambiance…a crowded cafe or relative silence. Warm places or cool spaces, open windows or roaring fires. Sometimes we have to scribble wherever inspiration hits us, on napkins or the back of an envelope, in a business meeting or in the middle of a school play. Given a choice, though, we like to control the vibe.
But what if you tried a new space? If you're in a slump, mix it up. It's easy to try something new if you're stuck or just can't stop doing loads of laundry instead of working. If you find your mind wandering, take your body for a walk. A new view or a new soundtrack can do wonders. Background noises can trigger new sensory details or help you turn down the volume of your own mental chatter. Try a new spot and you might ask yourself, Why didn't I try this before?
BECAUSE IT'S SCARY, your paranoid self might say. What if I get distracted? What if I find out I'm really lazy and a fraud and an immature 8 year old with a penchant for staring at bugs instead of doing my homework?
Well, any of that could happen. But what if something magical happens?
What if you work like crazy and everything is better than it has been for a long time? What if you find that a new atmosphere is not a distraction but an enhancement and you actually lighten the hell up and discover you can mix work with pleasure and feel pretty good about being a writer?
This practice is part of the Denver Writing Project's magic formula. The DWP is a chapter of the National Writing Project, an organization that combines the teaching of writing with the practice of writing. This month I participated in their one-week Advanced Institute. In 2015 I participated in their three-week Invitational Summer Institute. I cannot say enough about these great programs (shout out to Nicole Piasecki, who directed the DWP for several years and has inspired so many). If you want to catapult your teaching to the next level, and give yourself time and space to write to your heart's content, find a NWP chapter near you.
Throughout the year, the DWP also hosts one-day "writing marathons" in various inspirational venues (museums, parks, etc.) and this summer we again visited the Denver Botanic Gardens. It was about 90 degrees by midday, but there's plenty of shade and I found some sweet spots to hang out. I vaguely worried that I might be so excited to be there that I'd get nothing done. Not the case. I cranked out several pages, outlined several more scenes, and figured out bigger themes for a major project I'm working on. In between sprints I wandered a bit, took some photos, and praised the bees. Here  are some photos to inspire you to try something new. There's a great big world out there waiting to knock some beauty loose in your head. Get out there and see what shakes loose!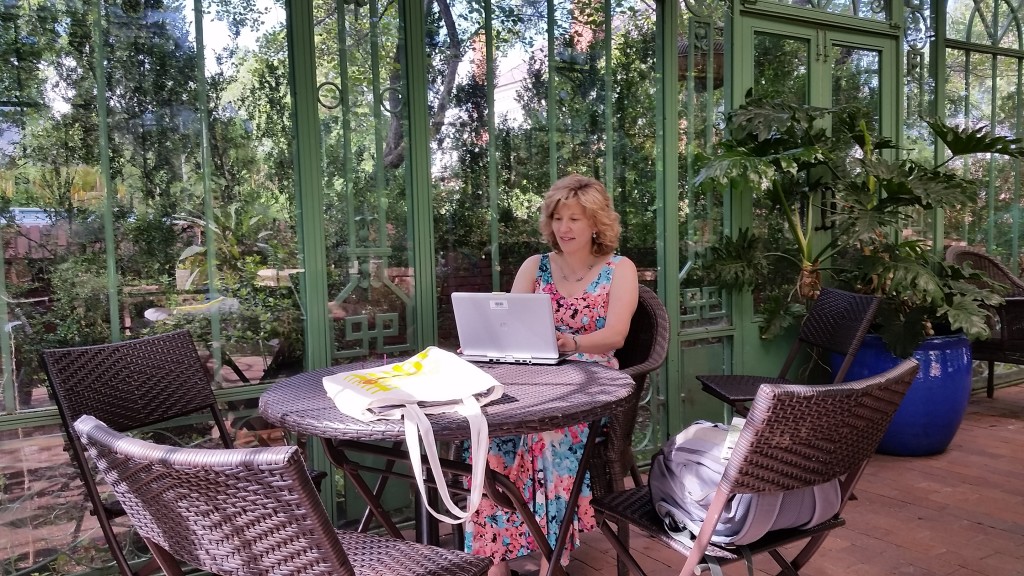 Fabulous inspiration…writing about the flower pushcarts in Bordeaux, France.